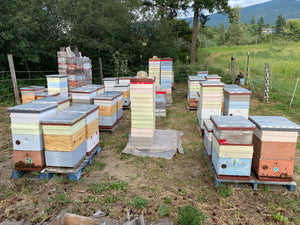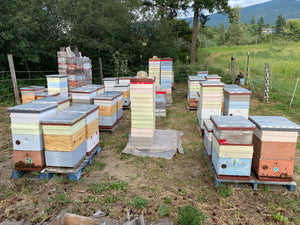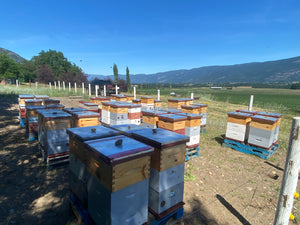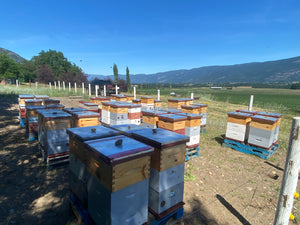 At BeeKind, we believe everyone should have access to the unique and delicious taste of local, unpasteurized, raw honey. That's why we created the ShareHive program, where you can enjoy this wonderful honey without any of the responsibilities of managing a hive. Our honey is sourced from the wide variety of plant life found in our community's gardens, fields, and wildflowers, giving it a distinct and delicious flavor that you won't find anywhere else.
When you choose a QUARTER BeeKind Share, you'll receive one quarter of the honey produced by your share hive colony. It will be delivered to your door shortly after it's harvested, extracted, and processed in August and September. Not only are you investing in high-quality, local honey, but you're also supporting community beekeeping and the preservation of our vital pollinators.
But that's not all. If you're interested in learning more about the beekeeping process or visiting your BeeKind ShareHive, we're happy to accommodate you. We offer educational visits to our yard where you can learn the basics of beekeeping, and we have a range of beekeeping suits and gloves available for all ages. You can always follow up by connecting with us through our FB messenger or email us at hello@beekindhoneybees.ca to schedule your visit.
By choosing to join our ShareHive program, you'll become part of a community of people who are passionate about supporting local beekeeping and preserving the vital role that pollinators play in our ecosystem. Your investment in a QUARTER BeeKind Share not only gives you access to delicious, locally-sourced honey, but also helps to ensure that future generations can enjoy the benefits of healthy, thriving bee populations.
Thank you for your support, and we can't wait to share our beekeeping seasons with you!