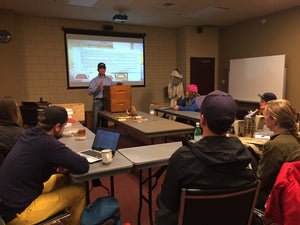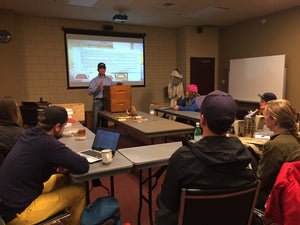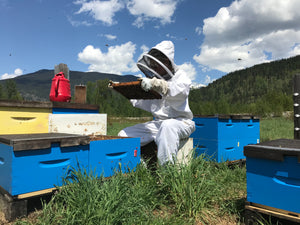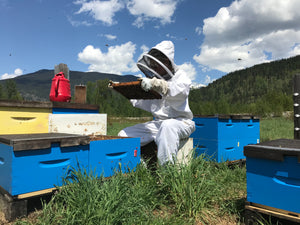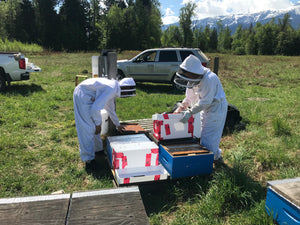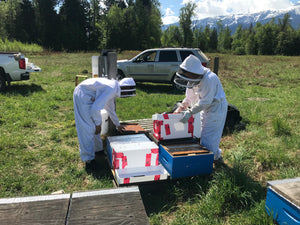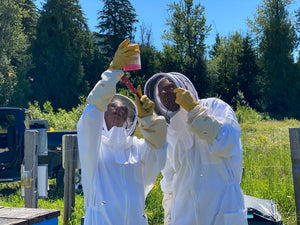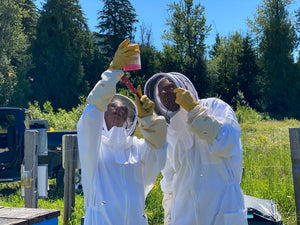 Theory (Thursday May 4th & Friday May 5th Evening Online)
Hands on Practical (Saturday May 5th Morning in-person Revelstoke)
Welcome to our Beginner Beekeeping Course! Our comprehensive program provides the necessary instruction and practical experience to ensure a successful start to your beekeeping journey.
We understand that everyone has different schedules and preferences, which is why attendees have the option to take the entire course or select specific components that suit their needs. Whether you choose to attend the theory sessions, practical exercises, or both, our goal is to provide you with the knowledge and skills required to confidently and responsibly manage your first season of beekeeping.
The Theory portion of the course will be provided online over two engaging and interactive evening sessions on May 4th and 5th, 2023 (Thursday/Friday) from 6pm-8:30pm. You will learn the foundation needed to understand beekeeping equipment and tools, costs, beekeeping season timeline and duties, integrated pest management, colony operations, honey harvest, winter preparations, second season spring management, responsible beekeeping, bee regulation, bee inspectors, hive registrations, and beekeeping community resources.
The Practical portion of the course will take place in person at our educational bee yard in Revelstoke BC on May 6th, 2023 (Saturday) from 9am-2pm. This interactive, hands-on learning experience will allow you to work with and in the beehive, including electric fencing/bear awareness, standard hive setup and timing, managing frames and hive equipment, identifying bee types and components, integrated pest management best practices, record-keeping, honey harvest, winter preparations, and winterizing. You will have the opportunity to work through the season, from transferring a nuc into a hive to swarm control, splitting hives, adding/pulling honey supers, feeding, winter preparation, and winterizing.
Please note that basic protection is required for the practical portion of the course, including gloves, veil or bee jacket/bee suit, hive tool, and smoker.
The Beginner Beekeeping Theory Course is a two-part course, and we highly recommend taking both sessions together for maximum effectiveness. However, each component can be taken separately to suit your needs.
Our goal is for you to leave our course with a strong theoretical and practical knowledge of beekeeping, along with the confidence and responsibility to continue or improve your beginner-level beekeeping practices. Join us for a fun and educational experience in beekeeping!