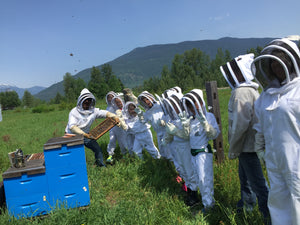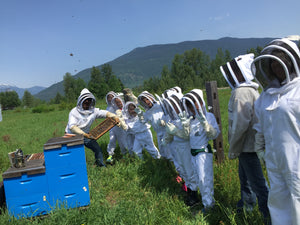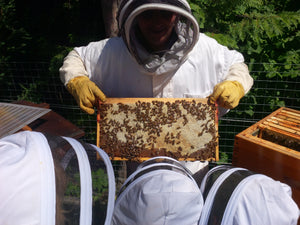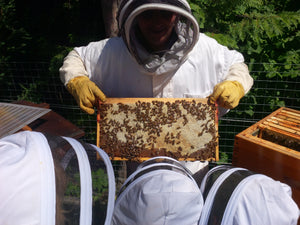 Learn with us...
Beekeeping is the scientific method of raising and maintaining bee colonies, commonly in man-made hives, by humans. Beekeepers keep bees for various reasons, including pollinating crops, producing bees for sale to other beekeepers, collecting honey, beeswax, propolis, flower pollen, bee pollen, and royal jelly. A location where bees are kept is called an apiary or 'bee yard.'
By learning about beekeeping, you can acquire new understanding, knowledge, behaviors, skills, values, attitudes, and preferences. You can learn about foundational skills, tools and equipment, standard best practices, seasonal timing, and situational interpretive best practices specific to your region or location. Additionally, you can develop various management practices that align with your beekeeping situation.
As a student of apiculture, you can also offer these lessons to others interested in honey bees and beekeeping. Whether you're a teacher, instructor, or mentor, sharing your knowledge and experience can help grow the community of responsible beekeepers and improve awareness towards honey bees. And the best part? You can learn and enjoy beekeeping at any age. So, whether you're a youth or an adult, beginner or experienced, you can reap the benefits of learning about beekeeping and become a part of this incredible community.
Youth
Extension Programs
Sharing our beekeeping experiences with youth is one of our greatest joys.
We offer safe, easy to understand, interactive learning opportunities at our educational bee yard through various local groups.
Learn More
Sharing knowledge....
At the core of our work lies a passion for learning and sharing knowledge. We take great joy in coaching, teaching, and sharing our vast experience and expertise with others, regardless of their age or level of understanding. Our mission is to create a community of responsible beekeepers, who are knowledgeable about honey bees and beekeeping. To achieve this, we offer lessons and courses about honey bees and beekeeping to people of all ages, from young children to adults.
Our educational programs range from one-day sessions at our educational apiary to multi-day courses that delve deeper into the intricate details of beekeeping. We also offer a ShareHive Program that provides an inclusive opportunity to learn about honey bees and beekeeping without the responsibility of ongoing management, equipment, or space.
If you have an idea for an educational session that we currently do not offer, please reach out to us and let us know what you're interested in. We are always eager to expand our knowledge and share it with others.
Adult
Beekeeping Programs
Discover the fascinating world of apiculture with our adult beekeeping programs. Choose from our range of safe and informative options, including short group sessions, multi-day beginner courses, ongoing mentorship, and our ShareHive Program.
Learn More
Yes, we have a limited supply of kids and adult beekeeping suits and gloves to keep you protected while learning with us about honey bees.
During COVID, we only permit one use per education session, and do not allow sharing of suits in an education session.
We ask that anyone registered in our beginner beekeeping course come prepared with their own personal protective equipment, and dress appropriately.
Usually we offer an adult beginner beekeeping course in April/ May with enough time for new beekeepers to develop a good foundation before getting started.
Beekeeping mentorship is available between April and October each season.
Youth learning opportunities are usually best between May and July.
No. We volunteer our time to educate our local youth in the fascinating world of honey bees, offering a safe, easy to understand, interactive, learning experiences for everyone.
No. We greatly appreciate all of the support we receive from our commercial beekeeping friends as we develop our beekeeping knowledge, and feel it's important to continue building the Each one Teach one philosophy and culture for the transfer of beekeeping knowledge.
At the end of the day, we're all doing our best to keep our honey bees healthy and happy. Whenever possible, we do our best to be available to visit your bee yard, and/ or invite you to one of ours. If you have any questions on the best practices that we've learned and use in our operation, please do not hesitate to ask.
We offer a ShareHive Program where individuals, and groups can purchase a quarter, half, of full share in a beehive that you can upgrade (or downgrade each season). Think crowdfunding for beehives.
With your share you are guaranteed a respective minimum of honey harvest (and more on good seasons), ongoing exclusive development updates throughout the beekeeping season, and a small group invitation to visit and meet your ShareHive, with family and friends of your choice.
Education Questions?
Do you have questions about our learning opportunities? We'd love to hear from you to see how we can help you with exploring the world of honey bees and beekeeping.