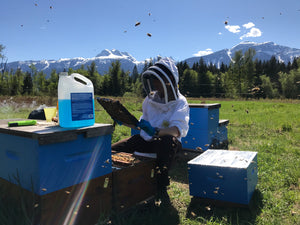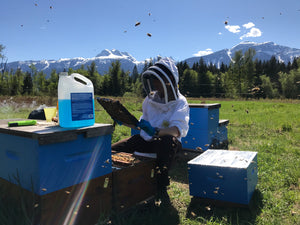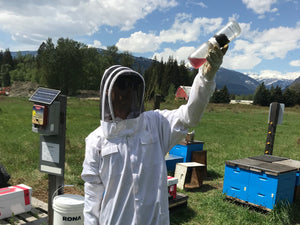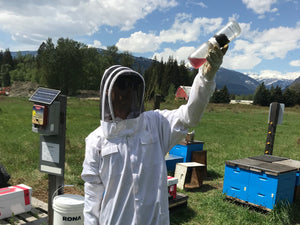 [Bio-Control] is the first (and only) formulation of Phytochemical, Phenolic, Amino Acid, Vitamin and Phytohormone Profiles naturally present in floral nectar that has been independently research verified to produce beneficial effects at the population, colony and individual level of analysis.

Apiary performance and disease management through improved nutrition.

Brings your nutritional support program into alignment with floral nectar and pollen for a more resilient Honey Bee.
Applications:
BIO CONTROL = Sugar Syrup additive
BIO ACTIVATOR = Pollen Patty additive
It's been called "Rocket Fuel" by Ian Steppler from A Canadian Beekeepers Blog YouTube channel;
https://www.youtube.com/watch?v=_ntAEErlq7Y&t=389s
Deep Dive into the Science Behind Apis Biologix, with founder Andrew Munn & Ian Steppler.
https://www.youtube.com/watch?v=fWTMWvyaDmU
Proline, the number one bioactive ingredient in Bio-Control, is the most dominant amino acid in floral nectar, pollen, worker/royal jelly and the body tissue of the Honey Bee. It's also the most sought-after, and utilized nutrient of Honey Bees, second only to carbohydrates. Honey Bees even have the ability to taste it which stimulates feeding behavior. It plays a vital role in immune defense and increases cold hardiness. 
Proline is just one example of the nearly 100 biologically significant bio-active compounds identified and formulated together for the first time.
Ingredients: Aspartic Acid, Serine, Glycine, Histidine, Threonine, Proline, Tyrosine, Valine, Isoleucine, Leucine, Phenylalanine, Lysine, Glutamic Acid, Arginine, Alanine, Methionine, Gamma-Aminobutyric Acid (GABA), Phenolic Profile, Ascorbate,  Phytohormone profile in the concentrations and proportions found naturally in floral nectar.
Equipment Required:
Scale-Milligrams
Common Blender, syrup mixing system.
Instructions for use:
Add 102.5 mg [Bio-control] per liter of mixed sugar syrup - following your established feeding (Spring/Late Summer/Fall) schedule
Premix weighed portion of [Bio-Control] into small amount of water with a common blender
Add solution to sugar syrup & mix well
As we do not use chemical stabilizers or preservatives in these products, mix fresh before each use
This package will make 200L or 1000L of the final syrup solution
Net Package Weight: 22.7 grams
Made in Canada